Back to List
Press
Natalia Zukerman: Provocative, Accessible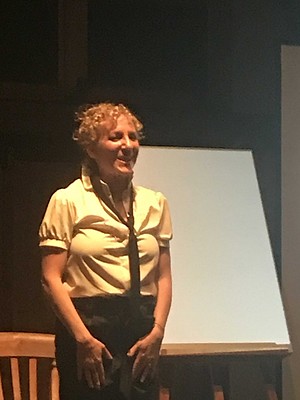 Fresh from an acclaimed New York City opening month-long run in Manhattan, Natalia Zukerman brought her one-woman (or should we say one-artistic genius) show to an appreciative audience gathered in an intimate barn venue in the Berkshires. The event, titled "The Women Who Rode Away: Portraits, Stories, and Songs," was brilliantly offered as a fundraiser to benefit the Leaf Peepers concerts, a series of four concerts scheduled for the fall of 2018.
Natalia's mother, Eugenia Zukerman, renowned flutist and artistic director of the Leaf Peepers concerts, introduced the event which drew nearly 100. She reported that the show was a huge success in New York when it was premiered at The Cell, where Natalia is the 2018 artist-in-residence.
Aptly described as "daring, exciting, and provocative," the multi-media performance is slated for a European tour.
Intimately autobiographical, using song, monologue and works of art that Natalia drew and painted, she presented glimpses into her own life, her family's life, and her ancestors' lives, beginning with her childhood and ending with experiencing the final moments with her grandmother, Shirley. Her accompaniment is her guitar. These elements engage in a wise, witty, and poignant dialogue with each other and with the audience.
The effect is mesmerizing. The women who rode away are Natalia's selection of historic women who tested, stretched, and broke through society's boundaries to become fully self-actualized. The selected women are Edna St. Vincent Millay; Jane Avril; Audre Lorde; gospel singer and early inventor of rock music, Sister Rosetta Tharpe; and landscape painter Georgia O'Keeffe. Natalia read some of Millay's poetry and Lourde's prose. For each figure she created a biographical arc of their life in song: their triumphs, foibles, and historical significance. Their stories are not only instructive and entertaining; they are downright inspiring to women in the twenty-first century.
Adopting a conversational, intimate vocal style as she speaks of herself and her reaction to these remarkable women, Natalia draws the audience into communion with the struggles they faced during their life. The listener is drawn to join in unity with their struggles and their successes. The focus is on vignettes of her own growth, from childhood in the American southwest to her present as a 43-year-old, as they relate to older, historical women. The unfolding dramatic narrative and song presents a supremely generous and open spirit who allows an audience to share in her experiences and decisions.
Natalia herself speaks of "authenticity and openness in art and life." Yet there are moments of isolation and connectedness—stories that plumb the depths of life, experiences that teach survival and redemption.
The voice that she employs remains intensely personal and when that voice transitions to song, it is fluid, pure, clear and natural within a credible blend of blues, bluegrass, or jazz.
As a performer, Natalia has it all: vibrant, resonant grace in her voice, excellent guitar picking and strumming, an unerring sense of rhythm. This unusual performance offered a novel, multi-media concept smoothly brought to the stage by a supremely talented 21st century woman inviting audiences to appreciate these remarkable women who rode away to become inspiring icons. To read an interview with Natalia Zukerman click here.
—
Leila Hawken,
The Millbrook Independent