Back to List
Press
Neave Piano Trio Amazes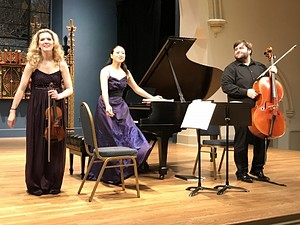 The second in the 2018 Leaf Peepers concert series drew a near- capacity audience at Saint James Place in Great Barrington to hear the acclaimed Neave Trio this past Saturday evening. The acoustics in this gracious concert space (a reconverted church) present superior resonance wherein each note can be clearly heard.
While the late-September foliage is still keeping us in anticipatory suspense over what the annual show of colors will bring this year, the music freely unfolded to delight and surprise throughout the concert. The applause was roaringly sincere with some calls of "bravo" for good measure.
The Neave Trio came together in 2010, and creating a musically exciting collaboration, attracting enthusiastic acclaim from critics. The Neave Trio is comprised of violinist Anna Williams, cellist Mikhail Veselov, and pianist Eri Nakamura.
—
Leila Hawken,
The Millbrook Independent