Back to List
Press
New York Polyphony Sings With Ardor At Hudson Hall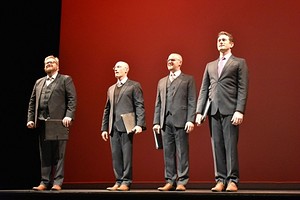 The program of nine early choral musical selections was gathered under the title of "Oltremontani," translated as "over the mountains" (to Italy). Countertenor Geoffrey Williams, soon to earn his Ph.D. in choral conducting from the University of Illinois, explained that during the 16th century, musicians were making the trek over the mountains from Flanders and France to neighboring Italy where they brought new polyphonic techniques that influenced Palestrina and Monteverdi. French-born Philippe Verdelot invented the first madrigals in Florence.
They began with religious songs by William Byrd, Philippe Verdelot, and Giovanni da Palestrina.
Each piece by English, French, and Italian composers was a tapestry of richly textured sound, impeccably on target, and nuanced to bring out the complex sounds intended by early composers of vocal music. These are modern voices giving listeners the gift of appreciating early repertoire..........
—
Leila Hawken,
The Millbrook Independent