Back to List
Press
Hai-Ting Chinn is ready to experiment in operatic 'Science Fair'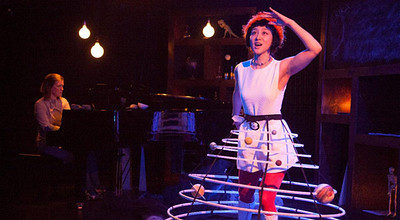 In the show, Chinn uses physical demonstrations and experiments to illuminate the wonderful word of science. Along the way, she sings a libretto created by scientists, namely an astronomer, chemist, particle physicist, middle school science teacher and science writer. Topics include everything from the formation of the solar system to the wondrous intricacies of an atom.
Science Fair was developed at HERE Arts Center in New York City, and it will receive a fully staged production Saturday, Oct. 26 at 7 p.m. at Hudson Hall in Hudson, New York, as part of the Clarion Concerts — Leaf Peeper Series.
Recently Hollywood Soapbox exchanged emails with Chinn, who has previously performed with New York City Opera, The Wooster Group and American Symphony Orchestra, among other groups. Questions and answers have been slightly edited for style.
—
John Soltes,
Hollywood Soapbox