Back to List
Press
The RuraList: 4 Exceptional Chamber Music Events To Consider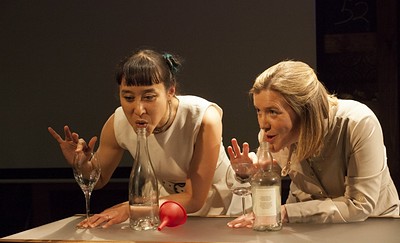 This isn't mixing just media or genres: this is a collision of worlds. A solo opera, "Science Fair" is an opera singer's love song to science. Mezzo-soprano Hai-Ting Chinn gathered writings of an astronomer, chemist, physicist and other scientists and commissioned composers to put the "lyrics" to music. The result is a fully staged presentation that includes arias, fun costumes, a slide show with comic illustrations, and live scientific experiments. Erika Switzer provides piano accompaniment and music direction.
"I saw 'Science Fair' in New York City and was completely charmed by it," said Dave Hall, Clarion Concerts board president. "With its combination of live experiments, funny costumes and beautiful music, I thought it would be an exciting concert and a message to our audiences that there's adventure ahead."
You wouldn't want to miss Chinn singing while clad in a wearable model of the solar system, would you? Yes, this is chamber music.
—
Lisa Green,
Rural Intelligence